Service Backed by More Than 30 Years of Experience

Experience with a Wide Range of Franchise Law Matters

Free Case Consultations

Personalized One-on-One Attention
Real Estate Control & Lease Review
California Franchisee Lawyer Serving the Nation
Thinking about where to establish your franchise can carry many implications. In today's real estate market, putting considerable thought into the location of your franchise can mean a world of difference to your franchise's future profitability. At Franchise Legal Support, we are dedicated to providing comprehensive services for franchisees throughout California and nationwide. If you are looking to start a franchise or purchase a franchise, you can trust our firm to help you lay the foundation, starting with assessing your real estate contracts.
These matters should not be handled without the trusted guidance of a franchisee lawyer from Franchise Legal Support. Contact us today to learn how we can help.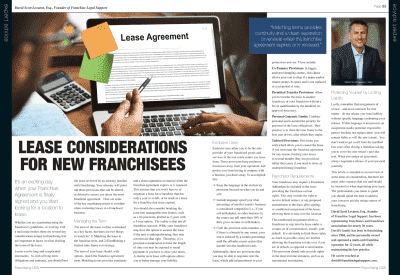 Read David's article in FranchisingUSA Magazine Leasing Considerations for New Franchisees
Important Leasing Factors to Consider
Unfortunately, we have seen through firsthand experience that many franchisees are uninformed, misguided, or unaware of their rights. As a result, franchisees can make significant mistakes that may end up costing them substantial amounts of money later down the line. Our firm can offer you specific, strategic, and experienced professional guidance as you make crucial decisions for your franchise.
We can guide you through your real estate decisions that can support your unique business model and financial portfolio, including:
Helping you understand important elements of real estate control, such as location, demographics, visibility, access, and real estate duties
Informing you of various start-up costs
Negotiating lease agreements, including representation in dealings with landlords such as negotiating monthly costs
Reviewing your lease agreement and informing you of your rights, responsibilities, and duties
Informing you of your landlord's rights, responsibilities, and obligations to you
By completely understanding everything in your lease or real estate agreement, you can feel confident and comfortable signing your name on the dotted line. Before entering into any lease or purchasing real estate, you should consult our firm so that we can help you avoid potential legal issues involving a breach of contract, fraud, or other concerns.
Contact Franchise Legal Support Today
If you are considering expanding a franchise, real estate and lease contracts will be a major factor in any decisions you make. Franchise Legal Support can help you consider many important aspects of your real estate needs before making any final decisions. For the initial development of real estate for a franchise, final lease agreement review, and related franchise real estate matters, our firm can bring more than 30 years of franchise law experience to the table. We know how to best support franchisees and meet your every need.
If you wish to learn more about how we can be of assistance in your real estate control or lease agreement review, call Franchise Legal Support to talk with a Los Angeles franchise attorney.
Franchisee Resources
If you are a franchisee, please check out our list of resources that provide useful information for operating your franchise.
Here to Help You Through Every Aspect
of Operating Your Franchise