Franchised Business Review
Franchise Disclosure Document & Agreement Help from a California Franchise Lawyer
It is imperative, whether this is your first venture into owning a franchised business, or adding units to an existing portfolio, to fully understand the franchise model you may be operating within. The review will explore what you should expect from the franchisor and what they will expect from you, as well as other operational points to consider, and possibly negotiate before you sign the franchise agreement. The more information you have up front considering whether the franchised business is right for you, the fewer surprises that may occur later on.
---
Speak with Franchise Legal Support about a franchised business review today. Our California legal team is ready to help.
---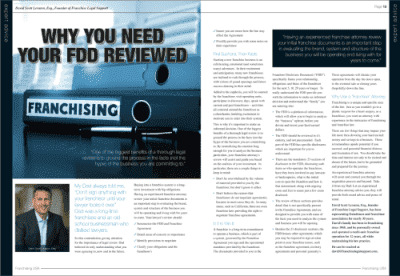 ---
Read David's article in Franchising USA Magazine Why You Need Your FDD Reviewed
---
Services Provided
We provide comprehensive franchised business review services. These include:
Initial Consumer Experience Review
Website review (purpose and opinion on effectiveness), social media, monitoring sites for franchisees and potential customers/clients (to highlight any concerns or report on the customer experience).
Trademark
Verify Marks are validly registered
FDD
Review the form of the FDD to ensure FTC and State compliance
Registration states: Review registration and provide proof of registration with proper authority allowing franchises to be legally sold.
Complaints (State and Federal)
Search for federal and/or state actions against the franchisor
FDD Review
Review the entire FDD (23 sections), Franchise Agreement and ancillary documents you may be required to sign.
Provide a written summary of the FDD and franchise agreement, including commentary by David (points to consider or of concern; places where negotiations are possible, state law's impact and any operational issues that should be addressed)
Consultation with David, in person or telephonically (typically 1.5-2 hours) to review David's findings, and answer any questions you may have about the FDD, franchise agreement, or the process moving forward.
Unique franchise laws exist that may alter the application of the franchise agreement terms, and how they may impact your rights. It is the goal of our firm to advise and inform you of the franchised business you are considering (as disclosed in the FDD), and provide you with experienced counsel to assist you in making an informed decision. With a thorough review of the FDD, we can also help you understand upfront what will need to be done if you choose to sell your franchise later. Our Lead Attorney, David Scott Levaton has considerable experience as a former franchised business owner and franchise attorney—allowing him a particularly unique insight into the needs of franchise owners from all backgrounds.
---
Contact our office in Los Angeles today and secure the legal guidance you need.
---
Franchisee Resources
If you are a franchisee, please check out our list of resources that provide useful information for operating your franchise.
Read More